Premier Chocolates For Every Heart & Home
The birth of The Cocoa Trees in Year 2000 saw the start of a new chapter for the growing demand for refined chocolates. The brand represents vibrancy, reliability, and trust while being approachable and of assuring quality. At inception, knowing that the root of the business lies in providing premier and exquisite chocolates, well-loved brands that are known around the world were first introduced.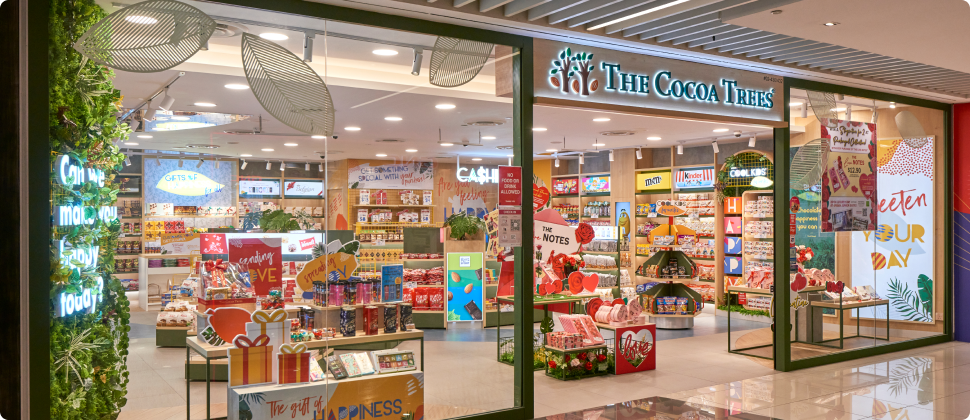 Since the inception of Focus Network Agencies (FNA Group International) on 1 October 1991, FNA has steadfastly grown the business from a distributor of just 2 agency lines to a recognized leader in the distribution and retailing of chocolate and confectionery in the Asia Pacific realm. Under its belt are retail brands The Cocoa Trees, Choc Spot and Taste Singapore.

Today, FNA Group international operates more than 20 stores in Singapore, and continues to expand and bring to you the most well-loved international brands, the group represents over 60 brands across the confectionery category and encompass renowned international brands such as Hershey's, Leonidas, Godiva, Neuhaus, Hawaiian Host, Ritter Sport, Anthon Berg, The Belgian, Lindt and more.

The Cocoa Trees was established in 2000 in Singapore. Today, The Cocoa Trees is Asia Pacific's leading confectionery and snacks retailer in both downtown and travel retail with presence in Singapore, Malaysia, Indonesia and Maldives, and distribution in Melbourne, Philippines, Thailand and South Korea.


Visit our new concept stores and enjoy a whole new vibrant shopping experience at The Cocoa Trees!